102,793pages on
this wiki
Talk

0
Thunderlord Clan Arrow

"Amazingly the fletchings on this arrow are still mostly intact. A testament to the skill of the Thunderlord hunters."
Source
This item can be found on top of a stone ramp in the middle of Bladespire Hold in the Blade's Edge Mountains.
As a quest objective
This item is an objective of
 [65] Thunderlord Clan Artifactsω τ ϖ.
This article or section is under construction.

Please be patient as the person who started this article or a recent editor is probably still in the process of committing changes to it.
Unlike a stub, contributors have the intention of filling out this article soon.
It is requested that a screenshot or screenshots be included in this article to improve its quality.

Location: Blade's Edge Mountains
Source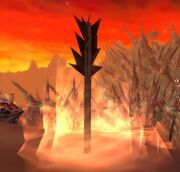 The Thunderlord Clan Arrow can be found in Blade's Edge Mountains. [0, 0]
External links