102,831pages on
this wiki
Talk

0
This article concerns content exclusive to Cataclysm.

This article should only contain officially released content, such as beta and press release content.
This information is subject to change at any time. (Note this tag should only be placed on major Cataclysm articles, until release.)
See WW:DNP for the official policy on posting unreleased content.
Throne of the Four Winds
TotFW, Tot4W, SWR
Location
Skywall (Uldum) [38, 81]
End boss
Al'Akir
Raid info
Type
Raid
Advised level
85
Player limit
10/25
Other raids
Throne of the Four Winds is a raid in the Skywall complex introduced in World of Warcraft: Cataclysm. It can be found off the southwest coast of Uldum at [38, 81] high in the air.
This dungeon, along with Bastion of Twilight and Blackwing Descent, is meant to an entry level raiding instance, much as "Naxxramas" was for Wrath of the Lich King or Karazhan was for Burning Crusade. [1]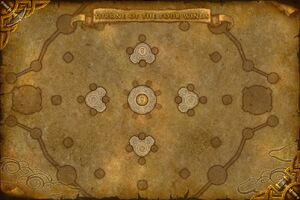 Videos
References
External links
WoW Official Game Site (US)
Throne of the Four Winds

WoW Official Game Site (EU)
Throne of the Four Winds
Guides

25man.com
Throne of Four Winds Tactics & Strategy Guides

Icy Veins
Comprehensive encounter guides for Throne of the Four Winds

LearnToRaid.com
Video Strategy Guides
News
WoW Insider
Tier 11 normal mode raid bosses to give valor points again
by Daniel Whitcomb Jul 18th 2011 at 11:00PM