102,793pages on
this wiki
Talk

0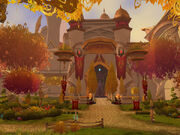 The Shepherd's Gate is the doorway to gain entry in to Silvermoon from Eversong Woods.
Trivia
The entrance to the Sunwell Plateau in the Isle of Quel'Danas is also called The Shepherd's Gate.
It is not the original entrance to the city. Remnants of the original entry way can be seen down the Dead Scar and a large sealed gate in the Bazaar connects this original path. The player cannot go that far up the Dead Scar however.