102,790pages on
this wiki
Talk

0
Karazhan: Opera Events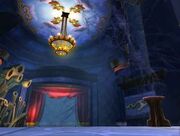 In the Opera House, you will meet Barnes the Stage Manager on the stage, addressing his ghostly audience. Barnes will then announce the night's presentation. One of three (currently) boss presentations will appear, each based off of famous stories or tales. "Tonight, things are not what they seem, for tonight, your eyes may not be trusted."
Hood - Starring the hungry Wolf himself.
Oz - Starring Dorathee and her dog Tito, Tinhead, Strawman, the lion Roar, and the evil Crone that tries to stop them on their way home!
To "test" for the event, start it with Barnes, then with one or more people on stage (to die) leave the rest of the raid in the pit below. The person(s) on stage will need to talk to Grandmother to finish starting the Big Bad Wolf, without this person the event locks up the doorway and the GM's will not help you. The other two events will engage straight away and the person on stage will die.
Moroes must be killed for the Opera event to be activated.
There is certain mods that are able to show what events will appear prior to engaging the event itself. Natur Enemycastbar is such a mod (available from http://www.ui.worldofwar.net) but there are no mods dedicated to this as of yet and natur Enemycastbar can be fairly unstable on if it shows it or not.