102,832pages on
this wiki
Improving Relations?
With all the content appearing with WOTLK, I've noticed that there have been interesting changes between the high elves (moslty of the Silver Covenant and the Alliance. (Particularly Night Elves)
First off, there are many high elves from the silver covenant fighting alongside alliance forces all over northrend. Second, There are high elves in ALL major cities (including Darnassus) when the Strand of the Ancients weekend comes up. Third, many of the Alliance Conscripts are night elves, and fight alongside Captain Iskandar, (who is affiliated with the Alliance expedition instead of the silver covenant) Before the Wrathgate event, there are High elf mages and Night elf Sentinels fighting along side each other as well.
Recently with the Argent Tournament we've seen not only many high elves from the silver covenant (hosting), but also many high elves part of the Argent Crusade, as Patrollers, Vendors, etc. Heck, there are high elves and night elves literally standing next to each other in many cases.
Basically, what I'm getting at here, is that maybe with all the recent changes, that the "Alliance Shunned" high elves arent as "shunned" as they were before.--Blayaden (talk) 15:15, 17 April 2009 (UTC)
Existance and Negligence
You Know what I feel The High Elves are being totally forgotten by the Warcraft Universe, not just by fans but by the freaking writers damn it!! I mean come on They should make some more stories about how the High Elves can regain their former glory or how they have found a way to prevent themselves from going extince like finding a way to get help from their core race breatheren the Night Elves to help breed with them to get pure first generation Highborne Night Elves that will eventually become First Generation High Elves or something and so on. I mean either make more stories about them in the up comming Cataclysm Expansion and other expansions or storylines, or just let them go extinct and be erased from all of warcraft for good. Because there are fans who care for them (Me being one of those Fans) and who want to know more about what's going to happening to them. So yeah.
Highelf buildings.jpg
This image shows elven architecture in Outland and has a description which says that they attempt to show that they are not blood elves of Quel'Thalas. This makes little sense seeing as the high elves in Outland are remnants of the Alliance Expedition and would not have had any idea that there was ever any distinction between high and blood elves until after the portal was reopened (and the Allerian Stronghold was built decades before that). Sarvam (talk) 00:29, July 20, 2010 (UTC)
Fan Images
What is the deal with those fan made images? They clearly present some differences that are not in game nor in lore (Shorter eyebrows, larger ears) and the face selection shows a clear bias on my opinion. I think they shoud be removed, they don't even have the aesthetic cuality of other fan images.--Beloren (talk) 07:32, July 26, 2010 (UTC)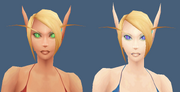 Rogue?
RPG says that they hardly ever are rogues, just as often as tauren are? Removed it from the list. Unless someone has some argument against it?--Glalin Thunderforge (talk) 16:41, January 9, 2011 (UTC)