102,825pages on
this wiki
Talk

0
The subject of this article was removed from World of Warcraft due to the devastating Cataclysm patch 4.0.3.

The in-game information in this article is kept purely for historical purposes and may not need to remain under any other categories.

Swift Razzashi Raptor

Item Level

40

Requires level 40
Requires Riding (150)
Use: Teaches you how to summon Bloodlord Mandokir's raptor. This is a very fast mount.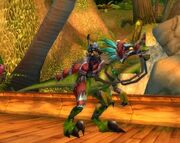 The Swift Razzashi Raptor is a rare drop from the boss Bloodlord Mandokir in Zul'Gurub. This epic mount is extremely sought after for its rarity. This mount will drop for either faction with a drop percentage of 1% and any race can ride it, provided they have 150 riding skill.
Notes
This is the only Raptor mount available to members of the Alliance.
Obtaining this mount awards the Feat of Strength,  

Swift Razzashi Raptor (achievement)

.
As of Patch 4.0.3a (2010-11-23):
, this mount was removed, but in 4.1.0, with Zul'Aman and Zul'Gurub returning as level 85 dungeons there will be a new mount with similar, but different features.
Patches and hotfixes
References
External links
http://us.battle.net/wow/en/blog/2356431 - the announcement of 4.1.0 and the new mounts arrivals