Summon Succubus
102,794pages on
this wiki
Talk

0
For succubus lore, see Succubus.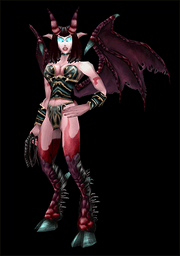 Summon Succubus is a core warlock ability learned at level 20. It allows warlocks to summon a succubus minion under their command, existing until dismissed or killed. While succubi have a basic attack, they also have a crowd control ability.
She does melee range physical and shadow damage with her whip, can cast Lesser Invisibility on herself and can cast the Seduction crowd-control spell.
Abilities
Edit
Modified by
Edit
Talents
Demonology abilities
The succubus is particularly useful on enemies of a lower level than the warlock due to her higher damage output than the voidwalker.
Because of her Seduction power, the succubus is a very useful pet for a warlock in most PvP situations. Her Lesser Invisibility power is also very useful; opponents will underestimate a warlock whom they believe not to have a pet out.
Removed chain
Edit


Note: These quests are no longer associated with this particular mob/NPC/item.
The Succubus was rewarded from the following quests:
Succubi have a rather notorious idle animation set. She will either pose, admire her nails, or on occasion spank her butt and let out an erotic squealed "Oooooh!".
The unique swimming animation for a succubus is, perhaps non-surprisingly, a form of breastroke.
When you make /flirt or /kiss emote Succubi will love you, causing hearts to appear over your head and hers. This effect has a cooldown and is not reflected in the combat log but will disrupt invisibility until it can be recast.
Voiceovers when summoned:
"Now what?!"
"Couldn't resist, could you?"
"Hmmm, you're in trouble now."
"Don't touch what you can't afford."
Voiceovers when ordered to attack:
"Let's have some fun."
"Being bad never felt so good."
"Let's get this party started."
"Now you're talking."
Voiceovers when ordered to cast a spell:
"Quid Pro Quo."
"As the master wishes."
"You got it."
"Say please."
Voiceovers when dismissed:
"Next time I'll be the master."
"Don't do anything I wouldn't do."
"Try not to miss me too much."
"I hope it was good for you."
"First we'll start with a little fire. Am I bugging you, I'm not touching you, am I bugging you, I'm not touching you. There - now you're hot AND bothered."
Patch changes
Edit
/ Patch 4.0.1 (12-Oct-2010): Ability removed: Soothing Kiss, Ability added: Whiplash

/ Patch 3.0.2 (14-Oct-2008): Health increased by 20%, armor increased 22%.

Patch 1.7.0 (13-Sep-2005): Succubus pets will be smarter about when to use Seduction.; Succubus pets can now autocast Lesser Invisibility.

External links
Edit