Steam elemental
102,738pages on
this wiki
Talk

0
This article or section is a lore stub. You can help expand it by editing it.

You might want to work with the other users of WoWWiki in expanding it.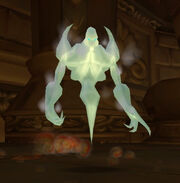 Steam elementals are elemental conglomerates of fire and water which allows them to speak Ignan and Aquan dialects of Kalimag.[1]
Steam elementals in WoW
Edit
References
Edit