102,844pages on
this wiki
Talk

0
Not yet released!

This article or section includes information about announced content that has not been released yet. The expected release date is unknown.
Please remove this template when the content has gone live.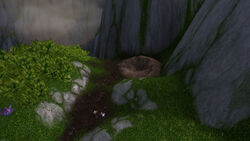 Springtail Crag[40.8, 20] is a virmen burrow located very high in the hills above Cattail Lake in the Valley of the Four Winds. Small virmen wander in packs of twos and threes, while larger virmen are scattered throughout. Down one of the holes the warren mother can be found.
Inhabitants
Patch changes