102,825pages on
this wiki
Talk

0
Not yet released!

This article or section includes information about announced content that has not been released yet. The expected release date is unknown.
Please remove this template when the content has gone live.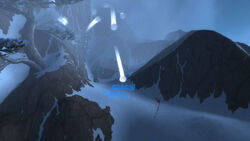 Seeker's Folly is a dangerous trail, pummeled by fierce weather, that leads up from the base of Mount Neverest in western Kun-Lai Summit. The first part of the trail is inundated with a continual avalanche, while the second part has a host of freezing winds enveloping it; both dangers need to be avoided. Up the trail is Seeker's Point. The Folly is the first half of access to Neverest Pinnacle.
The bottom of the trail is marked by Neverest Basecamp. The foot-access to the Peak of Serenity provides an excellent view of the avalanche.
Media
Images
Patch changes
External links