102,750pages on
this wiki
Talk

0
Not yet released!

This article or section includes information about announced content that has not been released yet. The expected release date is unknown.
Please remove this template when the content has gone live.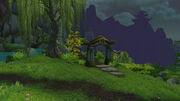 Objectives
Visit the Shrine of the Sun, the Shrine of the Moon, and Kill Dook Ookem.
Shrine of the Sun Visited
Shrine of the Moon Visited
Description
Curse these bloody natives! Kill one, and two more rise in its place...
Nothing has changed, <name>. Orders are orders, no matter how few of us stand and regardless of the odds.
I have plans to make and problems to solve.
I want you to get out there and learn the lay of the land. Don't return until you have something useful to report.
And silence that yammering fool while you're out there!
Dismissed!
Completion
Welcome, traveler.
Please, make yourself comfortable.
Rewards
You will receive:
Notes
Dialogue
Lorewalker Cho:
Hallo, stranger! You are making quite an impression with the local hozen. I daresay they're starting to fear you.
You must be one of those folk from that sky-ship that crashed. I have MANY questions for you, but this is a terrible place to chat.
Please, find me in the Cave of Words when you have time to speak!
Progression
 [85] 

Nazgrim's Command
Patch changes