102,850pages on
this wiki
Talk

0
Not yet released!

This article or section includes information about announced content that has not been released yet. The expected release date is unknown.
Please remove this template when the content has gone live.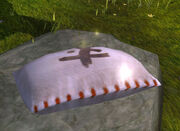 Objectives
Bring 8 Sacks of Grain to Grainlord Kai.
Description
Since you are heading south, can you try to recover some of the grain that these thieves made off with?
We saw birds and sprites running off with entire bags of our best bulk stock into the fields east and south of here.
Progress
Between birds and sprites we are never going to meet our quota to the Stormstout Brewery.
Completion
Why thank you very much stranger. This has not been a good day, but you certainly have helped us make it better.
Please, take this, you've earned it.
Rewards
You will receive:
Progression
 [86] 

Chen's Resolution

Complete all of the following:
3.  [86] 

The Emperor
Patch changes
External links