102,769pages on
this wiki
Talk

12
This article or section is a lore stub. You can help expand it by editing it.

You might want to work with the other users of WoWWiki in expanding it.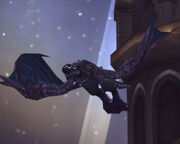 A plated proto-drake[1] is a unique proto-drake, the only one is Razorscale.
The Ironbound Proto-Drake and the Rusted Proto-Drake are also of this type, but may not be part of real in-universe lore.
References
Edit