102,845pages on
this wiki
Talk

0
This article concerns content exclusive to Cataclysm.

This article should only contain officially released content, such as beta and press release content.
This information is subject to change at any time. (Note this tag should only be placed on major Cataclysm articles, until release.)
See WW:DNP for the official policy on posting unreleased content.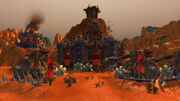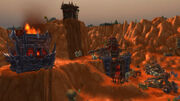 New Kargath, built atop Apocryphan's Rest near the shattered Ruins of Kargath, is the new Horde bastion within the Badlands, erected after the Cataclysm. It is a full-fledged town and appears to be under constant attack by members of the Black dragonflight.
NPCs
Flight Paths