102,737pages on
this wiki
Talk

0
Not yet released!

This article or section includes information about announced content that has not been released yet. The expected release date is unknown.
Please remove this template when the content has gone live.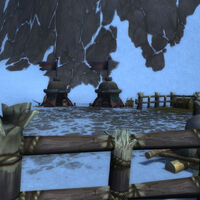 Neverest Basecamp is a two-tent travellers' camp located in Kun-Lai Summit. It sits on the road leading east from the Shado-Pan Monastery, south-southwest from the Valley of Emperors and north from One Keg. It marks the base of the path up Mount Neverest, the dangerous Seeker's Folly; continuing on will bring players to Seeker's Point and then Neverest Pinnacle, the top of the mountain.
Media
Images
Patch changes
External links
No zone ID specified. Please edit this article and add it.