Nerubian tower
102,750pages on
this wiki
Talk

0
This article or section is a lore stub. You can help expand it by editing it.

You might want to work with the other users of WoWWiki in expanding it.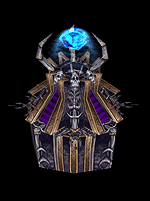 Nerubian towers are an upgrade from the ziggurat. It deals cold damage and slows enemy units by 50%.TFTMan 14
It is named after the towers of Azjol-Nerub, which were destroyed in the War of the Spider.
NEVER stack these over Spirit Towers. Two or three is enough; their main purpose is to slow enemy units, while Spirit Towers deal substantially more damage.