Lion seal
102,734pages on
this wiki
Talk

0
This article or section is a lore stub. You can help expand it by editing it.

You might want to work with the other users of WoWWiki in expanding it.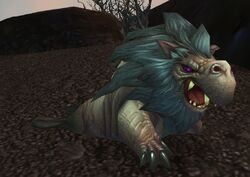 The lion seal is an aggressive type of amphibious animal similar to a dog with flippers more suited to swimming than land travel. This type of beast first appeared in Wrath of the Lich King. They appear to be similar to sea lions.
Types of lion seals:
Notable lion seals
Edit