Lightning Protector
102,750pages on
this wiki
Talk

0
This article or section is a lore stub. You can help expand it by editing it.

You might want to work with the other users of WoWWiki in expanding it.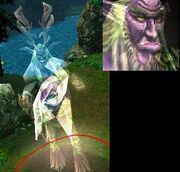 The Lightning Protector was an enchanted keeper of the grove who Tyrande killed because it was guarding the Horn of Cenarius. She needed the Horn of Cenarius to wake Furion.
Level 6 Lightning Protector Statistics in Warcraft III
Edit
775HP
550MP
40-46 Normal Ranged damage (+6 Orb of Lightning)
5 Heavy armor (Regular Keepers have Hero)
Attributes

25 Strength
22 Agility
33 Intelligence

Abilities

Lightning Shield
Chain Lightning
Stormbolt
Evasion