Lesser Magic Wand
102,825pages on
this wiki
Talk

0

The Lesser Magic Wand is an uncommon wand made by enchanters.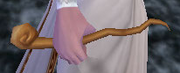 This item is made by Enchanters with a skill level of 10.
Patch changes
Edit
Latest Patch (Not sure which particular patch/date) Lesser Magic wand has had it's speed and damage reduced. (Will find correct patch info when I have time)
Patch 1.8.0 (10-Oct-2005): Enchanter-made wands are now Good (green) quality and have had their damage increased.

External links
Edit