Not yet released!

This article or section includes information about announced content that has not been released yet. The expected release date is unknown.
Please remove this template when the content has gone live.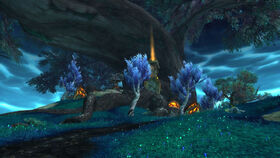 Kor'vess is a large mantid hive found just up the short road from Dusklight Bridge, the bridge that leads from Townlong Steppes to the mantid-heavy Dread Wastes. A number of slaughtered treants can be found lying throughout the area.
Inhabitants
Notes
A number of passages can be found leading into the hive. Within each is an important objective. Working south and around the tree from the first entrance facing the bridge, the following can be found:

Heartroot of Kypari Kor
Mark of the Empress
Patch changes