102,844pages on
this wiki
Talk

0
This article or section is an NPC stub. You can help expand it by editing it.

NPC boilerplate  · Boilerplate help  · Research:  Wowhead  WoWDB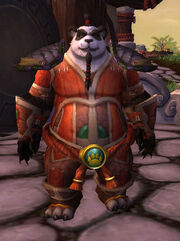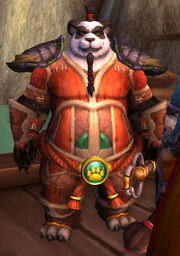 Ji Firepaw, a follower of the more direct Huojin philosophy, is adamant that inaction is the greatest injustice. Ji holds that it's honorable to defend home and family no matter the cost. Outgoing, passionate, and not one for deep thought, he is always the first into the fray. Ji finds himself attracted to the scrappy practicality that defines the Horde. Although it will cost him dearly, he will decide to carry the Horde banner when he leaves the Wandering Isle.[1]
Ji Firepaw is first encountered by players within Wu-Song Village[47, 17] on the Wandering Isle, where he is defending the villagers against the marauding hozen.
Further along, he is a quest giver at multiple locations, including the Dai-Lo Farmstead, Pei-Wu Forest, and the Skyfire Crash-Site. At the Farmstead he is extremely frustrated in attempting to awaken Wugou, the ancient spirit of earth. Ji later becomes the leader of the Horde Pandaren.
After leaving the Wandering Isle, Ji can be found as a monk trainer outside the Ring of Valor in Orgrimmar's Valley of Honor. The Orgrimmar Grunts, when asked where the monk trainer is, comment that Ji watches the fight in the arena, and occasionally participates himself.
Quests
Wu-Song Village
Dai-Lo Farmstead
Pei-Wu Forest
Skyfire Crash-Site
Patch changes
References
See also
External links
News
WoW Insider
Ji Firepaw's beta dialog gets a rewrite
by Michael Gray Apr 12th 2012 at 2:00PM
WoW Insider
Why is Blizzard still OK with gender inequality in World of Warcraft?
by Josh Myers Apr 3rd 2012 at 4:00PM