This article or section is an NPC stub. You can help expand it by editing it.

NPC boilerplate  · Boilerplate help  · Research:  Wowhead  WoWDB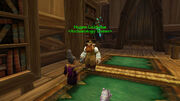 Hugen Goldwise is a Level 71 male Dwarf Archaeology Trainer who can be found on the upper floor of the inn in Valgarde in Howling Fjord.
Patch changes Edit
External links Edit