102,769pages on
this wiki
Talk

0
Not yet released!

This article or section includes information about announced content that has not been released yet. The expected release date is unknown.
Please remove this template when the content has gone live.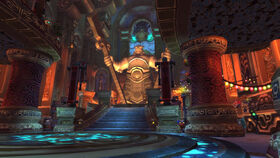 The Hall of the Crescent Moon is the central room within the Horde-controlled Shrine of Two Moons in the Vale of Eternal Blossoms. Most rooms of the shrine connect to this one, either in the lower or upper sections. A central staircase leads to rooms on the upper floor, and the two balconies can be reached by passing through the upper rooms.
Inhabitants
Merchants
  

Armorer Relna

(western balcony)
  

Kurong Caskhead

 <Bartender> (eastern balcony)
Services
NPCs
Patch changes