This article or section is a lore stub. You can help expand it by editing it.

You might want to work with the other users of WoWWiki in expanding it.
Gorlocs are "an arctic race of murloc-like creatures" that battle the tuskarr.[1] This can be seen in the Borean Tundra.
They are said to be the "next evolution of murlocs".[2] Lead Game Designer Jeff Kaplan called them "an evolution to the murlocs" and said they were a "complicated race of murloc, both good and bad at the same time".[3] The Oracles, an advanced group of gorloc tribes who have formed their own faction, are fighting the wolvar.
Tribes
Burblegobble's tribe[4]
Gurgleboggle's tribe[4]
The following tribes, although separate, have formed some sort of alliance calling themselves the Oracles:
Notable gorlocs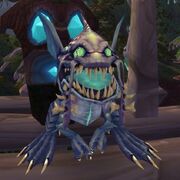 References