102,844pages on
this wiki
Talk

0
Flash Heal
Usable by
Class
Priest
Properties
Type
Defensive
School
Holy
Cooldown
 (GCD 1.5 sec)
Level required
7

TCG

image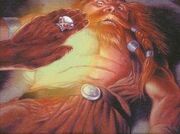 Flash Heal is a priest ability learned at level seven. It is a fast single-target healing spell. In theory it sacrifices mana efficiency in order to land a heal faster on someone who might not live to receive a large heal.
Modified by
Notes
Patch changes
Patch 5.2.0 (5-Mar-2013): The amount of healing done by Flash Heal, Binding Heal, Renew, and Prayer of Mending have been reduced by 20%.

Patch 4.0.6 (8-Feb-2011): Heal, Flash Heal, Greater Heal, and Binding Heal effects are now consistent with their tooltips.

External links