102,847pages on
this wiki
Talk

0
This article concerns content exclusive to Cataclysm.

This article should only contain officially released content, such as beta and press release content.
This information is subject to change at any time. (Note this tag should only be placed on major Cataclysm articles, until release.)
See WW:DNP for the official policy on posting unreleased content.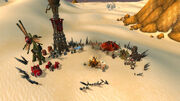 Dunemaul Recruitment Camp is a small Horde camp located near the Dunemaul Compound in Tanaris. Based on the town's name its possible that the Horde is trying to recruit the Dunemaul Ogres.