This article concerns content exclusive to Cataclysm.

This article should only contain officially released content, such as beta and press release content.
This information is subject to change at any time. (Note this tag should only be placed on major Cataclysm articles, until release.)
See WW:DNP for the official policy on posting unreleased content.
This article or section is a lore stub. You can help expand it by editing it.

You might want to work with the other users of WoWWiki in expanding it.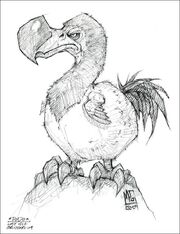 A dodo is a prehistoric species of flightless bird that likely resides on the Lost Isles. They have miniscule wings and large bodies, with massive, axe-shaped beaks.
Existence
The idea of dodo birds seems to have been scrapped and replaced with bush chickens, currently Wild Cluckers inhabit the Lost Isles.