102,734pages on
this wiki
Talk

0
This article or section is a lore stub. You can help expand it by editing it.

You might want to work with the other users of WoWWiki in expanding it.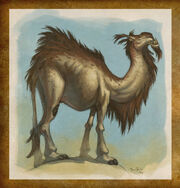 Camels are a new kind of beast appearing in Cataclysm. They are native to Uldum. They will also be a new mount.
Types of camels
Adarrah's Camel
Brown Riding Camel
Budd's Camel
Camel
Captured Wild Camel
Domesticated Camel
Grey Riding Camel
Mack's Camel
Mysterious Camel Figurine
Samir's Camel
Tan Riding Camel
Wild Camel
Videos
External links