Ash'ari Crystal
102,738pages on
this wiki
Talk

1
This article or section is a lore stub. You can help expand it by editing it.

You might want to work with the other users of WoWWiki in expanding it.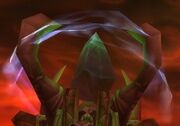 Ash'ari Crystals are found on top of the ziggurats in Stratholme, yet very little is known about them. They are guarded by Thuzadin Acolytes. It is unknown if these same kind of crystals are used in other ziggurats.
External links
Edit