Ancient of Wonders
102,737pages on
this wiki
Talk

0
This article or section is a lore stub. You can help expand it by editing it.

You might want to work with the other users of WoWWiki in expanding it.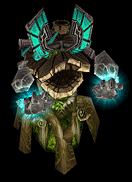 Ancients of wonders act as magic storehouses for night elf culture. They spend much of their time crafting magic items, and store the items they create in their branches and in nooks in their bark. They also train night elf spellcasters in the ways of magic item creation and forms of natural alchemy. Ancients of wonders leave melee combat to other ancients and to their night elven allies. In battle, they use magic items - usually wands or staffs - to blast their enemies with druidic spells.[1]
References
Edit
External links
Edit